Manual preview of fonts
中文字体世界,免费下载素材!Click here to change the text you want.
Recently, there is another good news in the font industry. Alibaba has launched a sans-serif font, which includes nearly 120,000 Chinese characters (5 words) and more than 7,000 Latin letters (2 styles, 11 words), covering 172 languages.
Alibaba Universal Style is a brand-new custom font of Alibaba Group.
"The 20-year-old Ali is running at full speed on the track of globalization. We urgently need a unified official font to build the consistency and integrity of Alibaba brand, so that everyone can better understand Alibaba and understand our business better."
Alibaba Group has a huge business, and its font usage scenarios are numerous and complex, including product clients, marketing design, operating system, hardware equipment, building space and public relations communication, etc. After repeated scrutiny by both parties, it was decided to take modernity as the core design concept, reliability and clearness as the design breakthrough point, and to integrate Ali spirit into fonts.
Alibaba's general introduction:
Alibaba's universal style has five characters: light/regular/medium/bold/heavy, among which L/R/M/B4 characters are made according to GB18030 character set standard, each containing 28,983 characters, while H follows GB2312 standard, containing 8,213 characters. The western group of Chinese character library in western languages has expanded Japanese kana, Chinese Pinyin, Taiwan Province phonetic symbols, etc.
Different from the previous unified treatment of family characters, Alibaba's universal style differentiated the details according to the usage scenarios with different word weights. Among them, the font with thinner L/R/M is more suitable for long text reading, and the word "Kou" close to the bottom keeps its feet, which better balances the fluency in reading, while the font with thicker B/H is more suitable for title scenes. In order to ensure simple texture, the feet are cut off, which makes it easier to reflect the sense of block.
In the end, this font was defined as "a family of blackbody with a modern sense that can match the whole scene".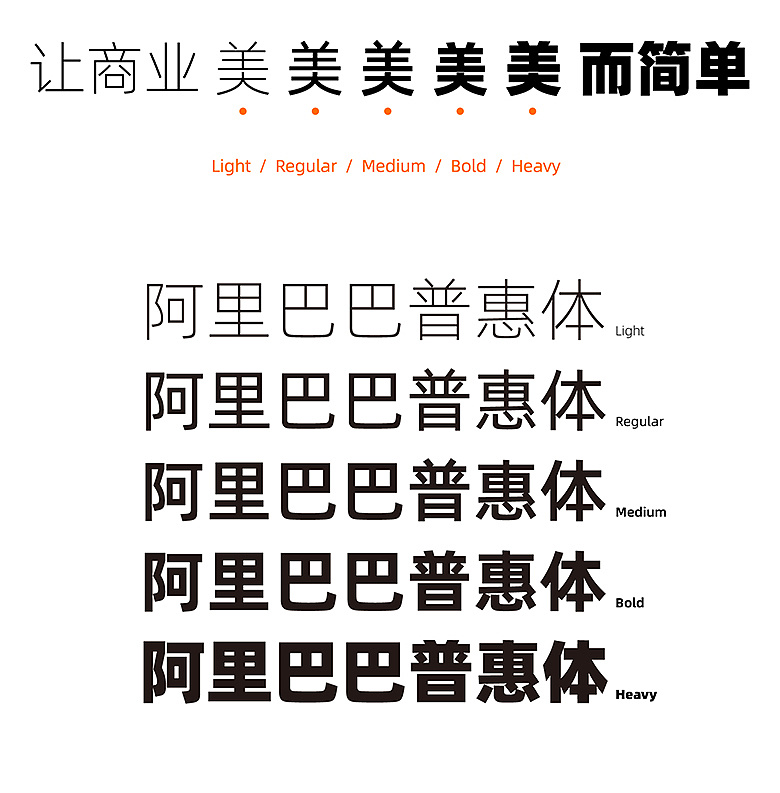 Authorization method:
Alibaba allows any individual and enterprise to use it for free, including commercial use, but it is prohibited to use it for illegal purposes.
Authorization link:
https://alibabafont.taobao.com/wow/alibabafont/act/alifont? spm=a213iq.12741207.8414978282.1.11c2461dj3Dq4z&wh_biz=tm&acm=lb-zebra-476210-6318052.1003.4.5750882&scm=1003.4.lb-zebra-476210-6318052.OTHER_15543966436832_5750882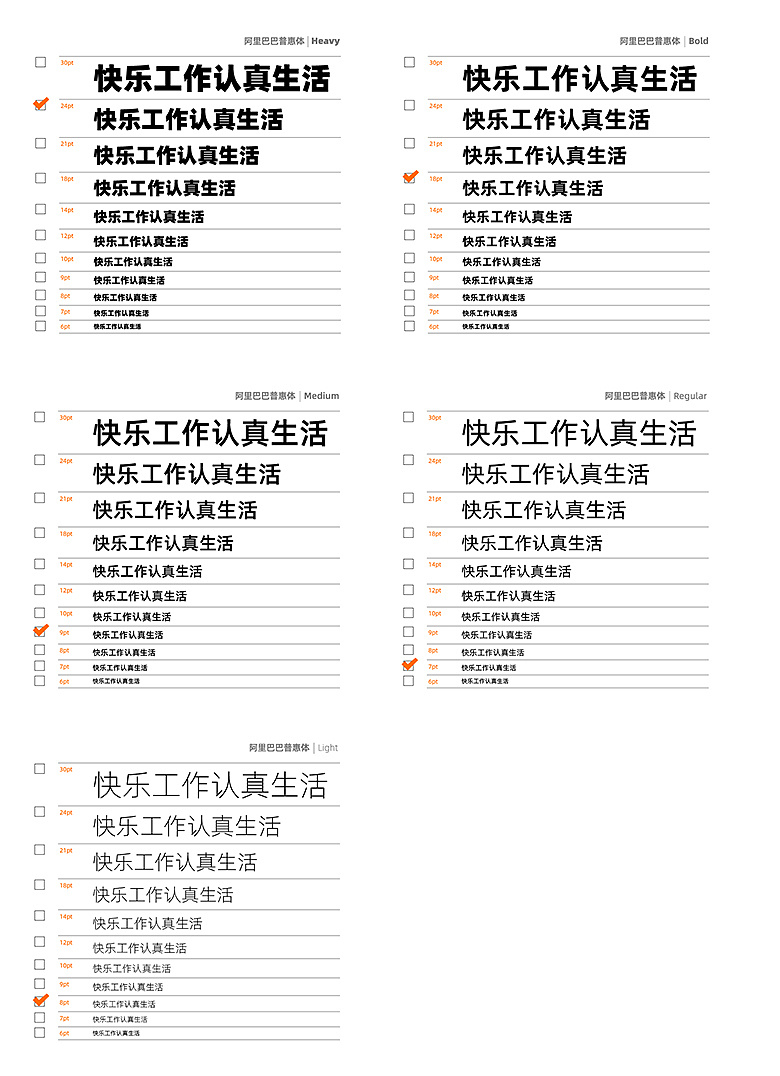 Internationalized character extension
The western part of Alibaba's universal style has been expanded, including Japanese kana, Chinese Pinyin, Taiwan Province phonetic symbol, Suzhou code, etc. Continues the sans serif design style of Chinese, and pursues a higher matching degree with Chinese in details.