Manual preview of fonts
中文字体世界,免费下载素材!Click here to change the text you want.
After the successful fundraising of Jin Xuan Font in 2015, in the spirit of giving back to the society, justfont promised to optimize a set of new open source works for Taiwanese users based on the existing open source fonts. Thanks to Motoya Company of Japan for opening its Kosugi Maru as an open source font, so that we can benefit future generations based on our predecessors. Owen is as important as Chinese characters in good typesetting; Therefore, I would also like to thank American designer Joe Prince and Israeli designer Avraham Cornfeld for developing the open source font Varela Round, so that Taiwan users can enjoy high-quality Owen fonts.
"jf open Pink Circle" is an open source font modified based on Kosugi Maru and optimized by justfont designer for daily application in Taiwan. It is released with OFL 1.1 open source license. You are welcome to freely apply, optimize and modify it!
Pink official website link: https://justfont.com/huninn/, welcome to official website!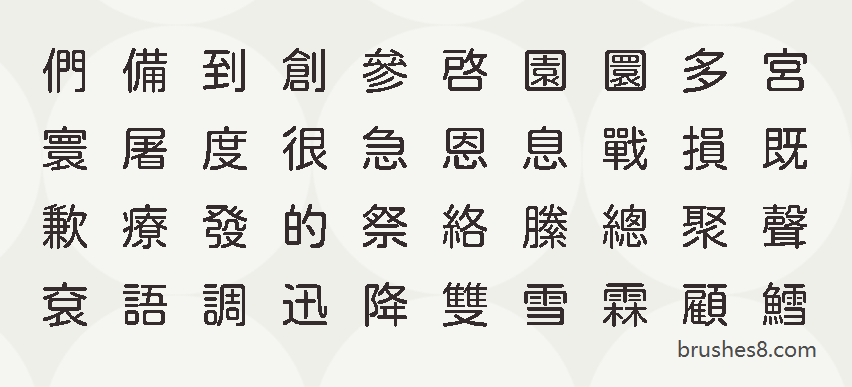 On the basis of "small fir circle", aiming at the use and typesetting requirements in Taiwan, on the basis of the original Japanese fonts, Taiwan common words and phonetic symbols were added, and the typesetting settings were revised, and even Taiwan Pinyin was added to meet the use requirements in Taiwan.
The designer changed the gray quality of the original font to make your typesetting more beautiful! Generally speaking, the new "jf open Pink Circle" font has the following tasks:
Optimized design adjusts and optimizes the original characters with uneven thickness and unsatisfactory layout.
Typesetting-adjust "small fir circle" as the punctuation mark design of Japanese font, and "jf open Pink Circle" as the punctuation mark setting of traditional Chinese.
The supplementary characters make up 1,484 characters of commonly used Chinese characters in Taiwan which are lacking in Japanese fonts, and design phonetic symbols and Taylor phonetic symbols.
For the detailed regulations of jf open vermicelli licensed as open source OFL version 1.1, please refer to: Open Font License: https://opensource.org/licenses/OFL-1.1
Chinese translation reference version: http://florenceko.me/? p=2089