Manual preview of fonts
中文字体世界,免费下载素材!Click here to change the text you want.
LXGW Neo ZhiSong / 霞鹜新致宋
A Chinese serif font derived from IPAmj Mincho.
This is an open source Chinese font based on IPAmj Ming Dynasty. It is an attempt to transform the font written in Japan into a standard Chinese mainland font.
This font is a sister font of "Xia Mou Xinshi Black". We try to transform it into the standard font of Chinese mainland on the basis of the original glyph of "IPAmj Ming Dynasty".
In addition, the Greek alphabet and Cyrillic alphabet have been redone, which is basically consistent with the style of the original Latin alphabet, which is more suitable for the typesetting of modern Greek and Cyrillic; new display support for Vietnamese Latin characters.
In terms of symbols, it supports the eight diagrams of the Book of changes and 64 hexagrams, Taixuan 81 hexagrams, mahjong symbols, Chinese chess symbols, arithmetic numbers, "positive" word counting and other special symbols.
In addition, "Xia Mou Ming Xin Song" is provided, which is modified and produced on the basis of "Xia Mou Ming Xin Song". The literal compression of the new Song Dynasty is 85%, and the rounded corners are added to make it thinner and more round.
(note: the characters received by Mingxin Song are deficient compared with those received by Xinzhi Song, please note.
).
Planning vocabulary.
The first part (simplified).
3500 words of commonly used character list in Modern Chinese.
GB/T 2312-1980 Chinese character part 6763 characters; (short-term plan goal).
General specification Chinese character table 8105 characters.
7000 words in the common character list of modern Chinese; (medium-term plan goal).
In addition, some off-table words are added as needed, which are divided into 5 groups. See the preliminary table of foreign words for details.
(as the case may be).
The second part (mainly traditional forms).
It depends.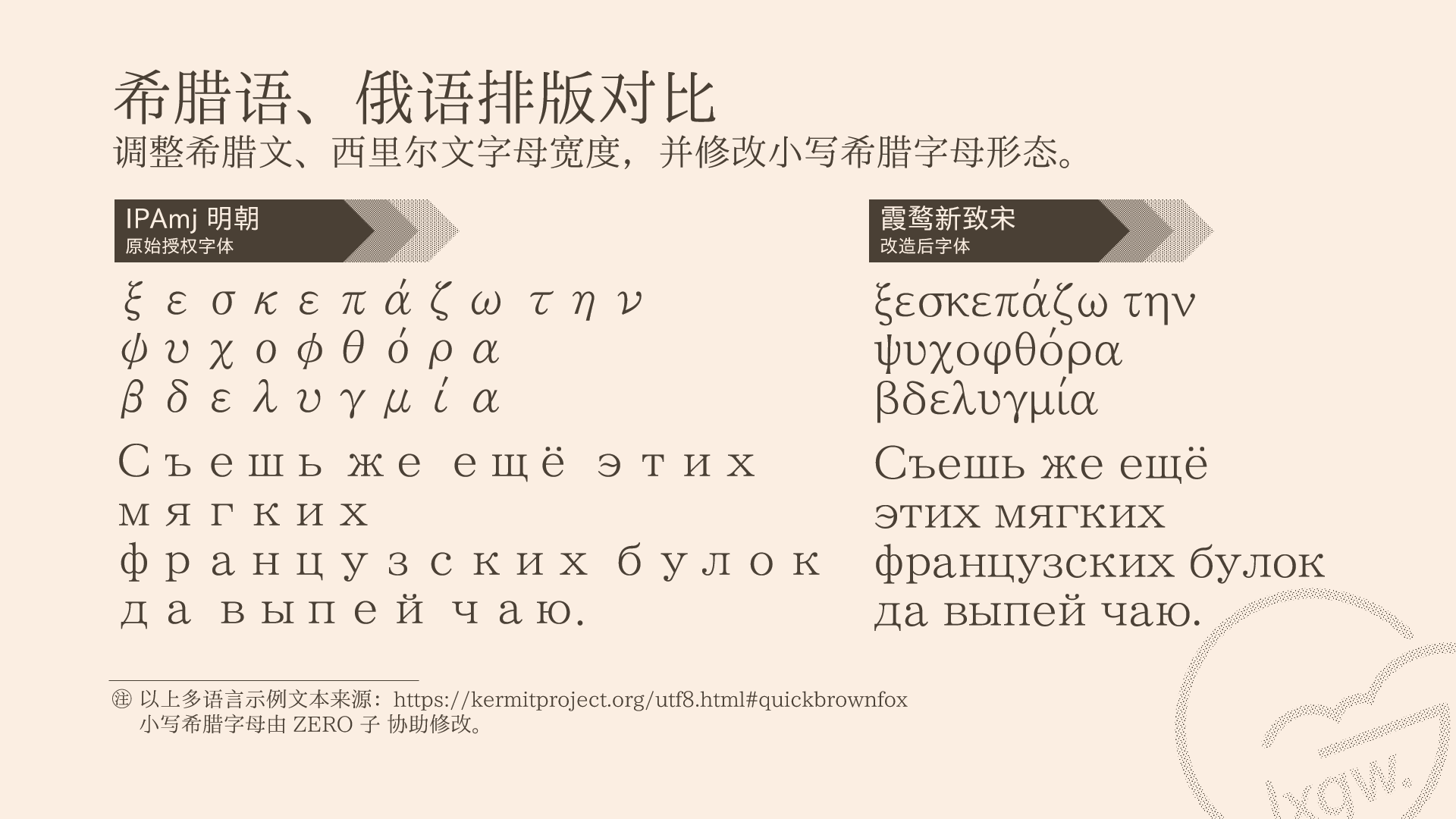 Authorization information.
https://github.com/lxgw/LxgwNeoZhiSong
This font is derived from the IPAmj Ming Dynasty developed and released by IPA and licensed in accordance with IPA Open Font license terms version 1.0 (IPA Font License 1.0).
When using this font, please comply with the IPA Open Font license terms version 1.0 (IPA Font License 1.0, IPA license license v1.0).
Any person who uses, reproduces, modifies, distributes this font, or does anything in accordance with IPA Font License 1.0, the recipient who uses, downloads or exercises the contractual rights shall also be deemed to have agreed to comply with all the provisions of IPA Font License 1.0.
According to the relevant provisions of IPA Font License 1.0, font files are required to be provided free of charge without postage, storage media fees and handling charges.
Subsequent derivatives may not use the name of the original license program (including program name, file name, font name) and must inherit the original license terms (therefore, IPA Font License 1.0 is not compatible with SIL OFL 1.1).
For other frequently asked questions about IPA Font License 1.0, see FAQ (Japanese), which requires your own translation tool.
"IPA font" is a registered trademark of Japan's "Independent Administrative legal person Intelligence processing Promotion Agency" ("IPA" for short).