Manual preview of fonts
中文字体世界,免费下载素材!Click here to change the text you want.
Origin of fonts:
At present, there are few open source fonts in Chinese. Fortunately, there are still some people with heart, such as Wang Hanzong. Wang Yi was given by the Mathematics Department of Chung Yuan Christian University in Taiwan Province, and the Chinese character library of wild silkworm was being developed by him. In 2000 and 2004, he donated 42 sets of fonts for open source use, all of which were distributed by GNU GPL.
Unfortunately, in 2005, Wen Ding Company thought that some fonts granted by Wang Yi were similar to their commercial fonts. In order to avoid legal disputes, all open source websites have removed Mr. Wang's font. So far, there has been no public result of the so-called legal disputes.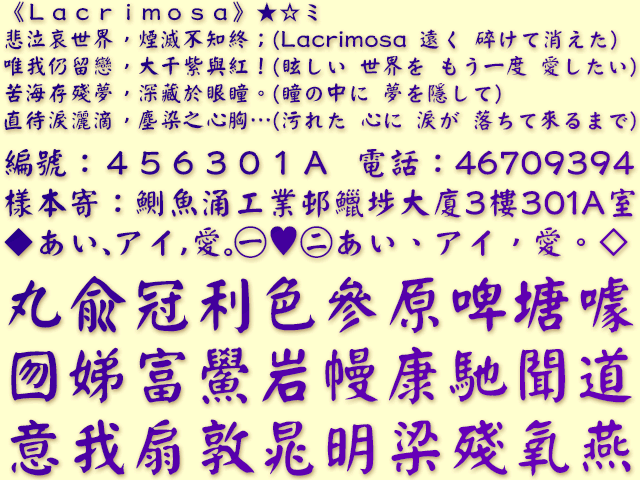 Copyright confirmation:
Earlier, after professional comparison and research, Justfont confirmed that some fonts granted by Wang Yi did not involve copyright disputes with Wen Ding fonts, so they can be used with confidence. Justfont provides these safe fonts to everyone free of charge in accordance with GNU GPL terms.